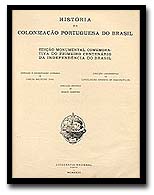 HISTÓRIA da Colonização Portuguesa do Brasil. Porto: Litografia Nacional, 1921 - 1924.

Published in three volumes between 1921 and 1924, the História da Colonização Portuguesa do Brasil was associated with the commemorations of the first centenary of the Independence of Brazil.

The monumental nature of this collective work, which brings together studies of some of the major Portuguese and Brazilian historians such as Jaime Cortesão and Carlos Malheiro Dias, is seen in the rich and copious illustrations and transcribed documents such as Pero Vaz de Caminha's letter to King Dom Manuel I, edited by Carolina Michaelis de Vasconcelos, and the palaeographic reproduction of D. Manuel's letter to the Catholic Kings, dated 29 July 1501, in modern Portuguese.

Volume I of the História da Colonização Portuguesa do Brasil is dedicated to "Cabral's precursors", whereas the second volume deals with "The epic of the seaboards" and the third, covering the period from 1521 to 1580, is given the significant title of "Brazil's Middle Ages."