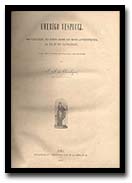 VARNHAGEN, Francisco Adolpho. Amerígo Vespucci. Son caractère, ses écrits (méme les moins authentiques), sa vie et ses navigations. Lima: Imprimerie Du "Mercurio", 1865.

Amerigo Vespucci, published in Lima in 1865, is one consequence of the almost ten years that Francisco Adolfo de Varnhagen spent in South America after his promotion to Resident Minister in Paraguay in 1858. Since then, Varnhagem had visited Venezuela, New Granada, Ecuador, Chile and Peru and dedicated himself to economic studies and research on Christopher Columbus and Amerigo Vespucci, since he was unable to broaden his knowledge of the history of the colonial period in Brazil due to the almost total lack of pertinent sources.

Having pursued his research in Florence on the navigator who was to lend his name to the New World, Varnhagen reached the conclusion that of all the letters attributed to Amerigo Vespucci, the only ones to be deemed authentic were the two published while he was alive: the letter of 1503 (perhaps even 1502), addressed to his former protector Laurent de Pierfrancesco de Medici; and the one dated 4 September 1504, addressed to an old student friend, Pier Soderini, and probably published in Florence the same year (this letter is reproduced in

Ramusio's work.

Capistrano de Abreu used Varnhagen's study to clear up some of the so-called "controversial points" concerning the discovery of Brazil.