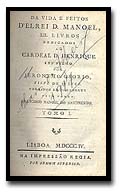 OSÓRIO, Jerónimo. Da vida e feitos D'ElRei D. Manoel XII. Lisboa: Impressão Régia, 1804.

Jerónimo Osório was born in Lisbon in 1506 and died in Tavira at the age of seventy-four. Called the "Portuguese Cicero" because the ease and elegance of his Latin, he studied Art and Civil Law in Salamanca, Philosophy in Paris and Theology in Bologna. He worked as tutor to Dom Antônio, the future Prior of Crato, professor of the University of Coimbra, Archdeacon of Évora and bishop of Silves. After visiting Pope Gregory XIII in 1576, he dedicated to him the five books of De Vera Sapientia, obtaining in return his transfer from the diocese of Silves to Faro. A great humanist, political doctrinist, exegete, historian, apologist and counter-Reformist, his books were published several times in Portugal, Spain, Belgium, Italy, France and Germany.

His Da Vida e Feitos D'El Rei D. Manoel (De rebus Emmanuelis gestis libri duodecim) was edited for the first time in 1571.