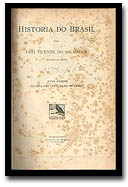 VICENTE, do Salvador, Frei . História do Brasil.
São Paulo: Rio de Janeiro: Weiszflog Irmãos, 1918.

The author of the first work to be called a History of Brazil was born in Bahia around 1564 and baptised Vicente Rodrigues Palha. After graduating from the University of Coimbra in Theology and Canon Law, he returned to his native land at the end of the eighties of the first century of colonisation. After taking holy orders, he served as canon, vicar general and governor of diocese before taking the Franciscan habit in 1597.

At the same time he became Friar Vicente do Salvador, he read the authors of the day, collected oral traditions, heard those who participated directly or indirectly in the enterprise of colonisation and wrote down his own experiences. This enabled him to meet Manuel Severim de Faria's request to write a treatise "on the things of Brazil." On 20 December 1627, Friar Vicente do Salvador put his signature to the dedication of his História do Brasil to that Portuguese scholar.

Divide into five books ranging from the Discovery to the period of Diogo Luís de Oliveira's government, the História written by Friar Vicente do Salvador states and laments that just as the sign of the cross made the Devil lose all his dominion over men, fearing likewise to lose the great dominion he held over the men of this land, he worked so that the first name [Santa Cruz - the Holy Cross] would be cast into oblivion and the name of Brazil would remain. Nor does the Friar hesitate to censure the Portuguese for not having occupied the territory in the backlands, since being great conquerors of territories, they fail to make proper use of them, contenting themselves with scratching away at the coastal area like crabs.

Written in a simple style, Friar Vicente do Salvador's book would remain unpublished for over two centuries, only being fully edited for the first time in 1888, in the Anais of the National Library, with an introductory study by Capistrano de Abreu. The same historian was responsible for preparing the definitive edition of 1918.

According to Capistrano de Abreu , Friar Vicente do Salvador's História do Brasil is "a collection of documents summarised rather than written, stories of Brazil rather than the history of Brazil." By describing the book in this way, the historian from Ceará defines both the Franciscan's conception of history and his own.