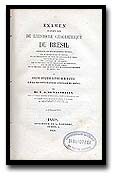 VARNHAGEN, Francisco Adolpho. Examen de Quelques Points de L'Histoire Géographique du Brésil. Comprenant des éclaircissements nouveaux ... sur les explorations des côtes septentrionales du Brésil... . Paris: Imprimerie de L. Martinet, 1858.

The fact that this work by Francisco Adolfo de Varnhagen (1816-1878) appears in this exposition beside the work of

Paul Gaffarel , Navarrete, the Visconde de Santarem and even the Congrès International des Américanistes may be mere chance. Yet it may also be the involuntary proof of the perseverance of the unidentified scholar who built his library around one of the burning questions of Brazilian historiography in the early part of the 20th century, namely, the controversial points concerning the Discovery of Brazil .

Published in Paris in 1858, the Examen de quelques points de l' Histoire Geographique du Brésil argues in favour of the arrival of the Spaniard Alonso de Hojeda, accompanied by Juan de la Cosa and Amerigo Vespucci, on Brazilian territory ten months before Cabral's expedition.

According to

Capistrano de Abreu , "Varnhagen devoted many years of his life to this effort, arguing, developing and rectifying. However, some considerations will suffice to show that Vespucci and Hojeda cannot be included among the discoverers of Brazil ".

It might be of some interest to us today to consider that the writer from Sorocaba presents his arguments under the title "Histoire Géographique."